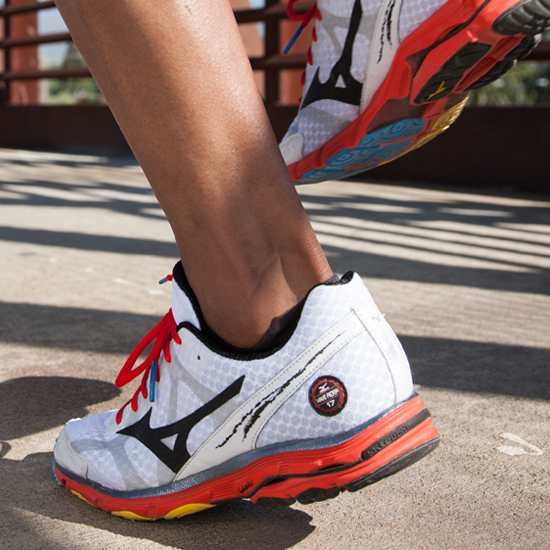 Do you have a shoe-related question? Or a running shoe question, specific to Mizuno for the Mizuno Shoe Guy? If you have a question you'd like him to answer, send it to Shoeguy@Mizunousa.com. (Include your address.) If we pick your question for the Mizuno Shoe Guy to answer, we'll send you a beautiful Mizuno DryScience T-shirt.
Wave Rider differences?
Q: Hello Mr. Shoe Guy, I love the Wave Rider 16 and wore it in my first two half marathons last year without any blister or shin splint issues. Now I need to replace them before my next half marathon. I realize the 16 has been replaced by the Wave Rider 17 and there probably aren't any 16s left. What are the most important differences between the 16 and 17? Jane Philpott, Valley Stream, New York
A: I couldn't agree any more with you: The Wave Rider 16 was a great shoe. But, there is no question that the Wave Rider 17 is even better. It's a faster and lighter shoe (nearly a full ounce lighter, due to the lighter midsole material we are using called U4ic). The Rider 17 also has a smoother ride than the 16 had with a cushier feel to it due to a softer material in the forefoot of the outsole. Fit-wise, you'll be on familiar ground with the 17, but it does snug the foot better. Good luck in your next race.
Creation for mild overpronator?
Q: It's that time of year again for me to buy new shoes. My most recent shoes were the Asics Gel Kayano, but I was disappointed with it and I'm leaning toward Mizuno again which I have always been happy with. (The first running shoes I ever bought was the Wave Inspire 6.) I'm a mild overpronator and thinking of the Creation 15, the Prophecy 3 or the Inspire 10. Recommendations? Martin Sisal, Flamingo Park, Florida.
A: Although the Creation 15 and Prophecy offer some inherent support, both are designed primarily for maximum cushioning, rather than support. The Wave Inspire 10 is a pure support shoe, but a bit different than the run-of-the-mill support shoes. The Inspire 10 is the lightest conventional support shoe on the market and it does so without any loss of support. The Inspire 10 weighs nearly two ounces lighter than the Inspire 6 did (and a full ounce lighter than the prior version)–and it's significantly more supportive. My recommendation is to go with the Inspire 10.
Alchemy fan looking for replacement
Q: I have bought 12 straight pair of Wave Alchemy and my local Luke's store told me it's been discontinued. I want to stay with Mizuno and I was looking for the best Mizuno to replace it. From what  you've written on Runnersworld.com that shoe is the Wave Paradox, but I have read online reviews that say it doesn't match the support of the Alchemy. True? Angela Martinez, Richardson, Texas
A: Everyone is entitled to their opinion, but I respectfully disagree with that assessment. Yes, the Alchemy was a terrific shoe and yes, it has been replaced by the Wave Paradox. But, the Paradox is—without a shadow of doubt—a vastly superior shoe to the Alchemy in terms of weight (it's lighter), cushioning, ride and fit. In terms of support, the Paradox is at least as good—if not better—than the Alchemy. I was an Alchemy fan too, but the Paradox is quite simply one of the best support shoes ever made. I can't imagine any Alchemy fan who won't enjoy the Paradox a great deal more.
Lightweight training shoe?
Q: This might seem like an unusual question, but I am a pole vaulter who has always used Mizunos to train in. I absolutely loved the Wave Precision 7s and the Wave Rider 14s, but need a new Mizuno for short sprints, high impact plyometrics and weight lifting. I want a shoe which is very light, but has some cushioning and will hold up well in my training. What would you recommend? Phillip Reid, Tampa, Florida
A: Phil, we have the perfect shoe for you: The new Wave Hitogami. The Hitogami is primarily a road-racing shoe, but it's light enough for sprinting and will hold up well for weight training and other types of cross training. One of the beauties of the Hitogami is that even though it's light (7.4 ounces for men's size 9), it's durable enough to take the pounding you'll dish out in your training. I don't know what heights you're shooting for, but the Hitogami won't slow you down in your training.
Prophecy fan
Q: I have absolutely loved the Wave Prophecy. The cushioning is great and it looks cool too. I just wish it wasn't quite so heavy. If I wanted to try a different Mizuno, should I look at the Wave Creation to get that same cushioning? Ronnie Berry, Newport News, Virginia
A: In a word, no! Your wish has been answered. The new Wave Prophecy 3 is much lighter than the prior versions and at 11.9 ounces for men's size 9, it weighs about the same as most conventional shoes. The Prophecy 3 still has that same exceptional cushioned ride you like, but is more flexible in the forefoot and has a better toe off. You have already done well in this shoe. Stick with the Prophecy, but upgrade to the Prophecy 3.