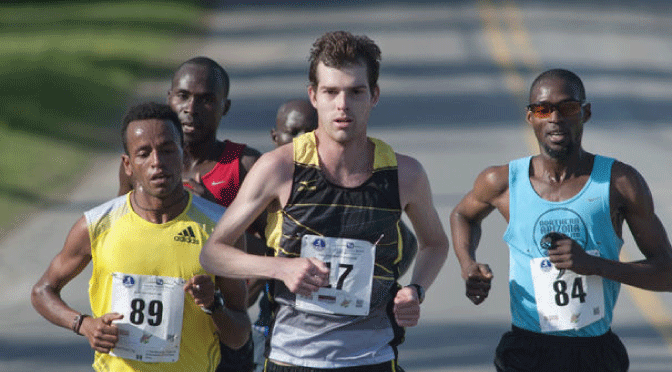 Mizuno Brand Ambassador Christo Landry turned in a record setting race on Saturday, tying the American 25 km record of 1:14:18 set in 2013 by Mo Trefah to win the 2014 USA 25 km Championships. This marks Landry's second U.S. championship win this season having taken the USA 10 Mile title at Cherry Blossom in April.
Wearing the Mizuno Wave Ekiden, Landry and several other top runners set the tone early and formed a pack through the first half of the race. Landry started to pull away just past the 6-mile mark, and at the 14-mile mark he pulled away for good crossing the finish line at a record setting pace 13 seconds ahead of second place.
"People were throwing in surges left and right, I tried to ride the line between the highs and lows to conserve energy for the latter portion of the race, hence I was constantly falling off the back of the pack and reconnecting," said Landry. "It feels amazing to get my second USA Championship win so close to my first. It still hasn't completely sunk in that I'm an American Record holder."
The USA 25 km Championships are the sixth stop on the USA Running Circuit. The top ten finishers at each race on the circuit qualify to compete in the U.S. National Road Racing Championships to be held in Alexandria, Va. in November.
"Christo is having an excellent 2014 racing season. With wins at the USA 10 Mile and this past weekend's USA 25 km Championships, setting an American record, he is showing that he is an elite runner in this series," said Kim Hoey, Running Division Brand Manager, Mizuno USA.  "We have high hopes for his continued success at his next race at the Peachtree Road Race in July."
Photo via @GRPress