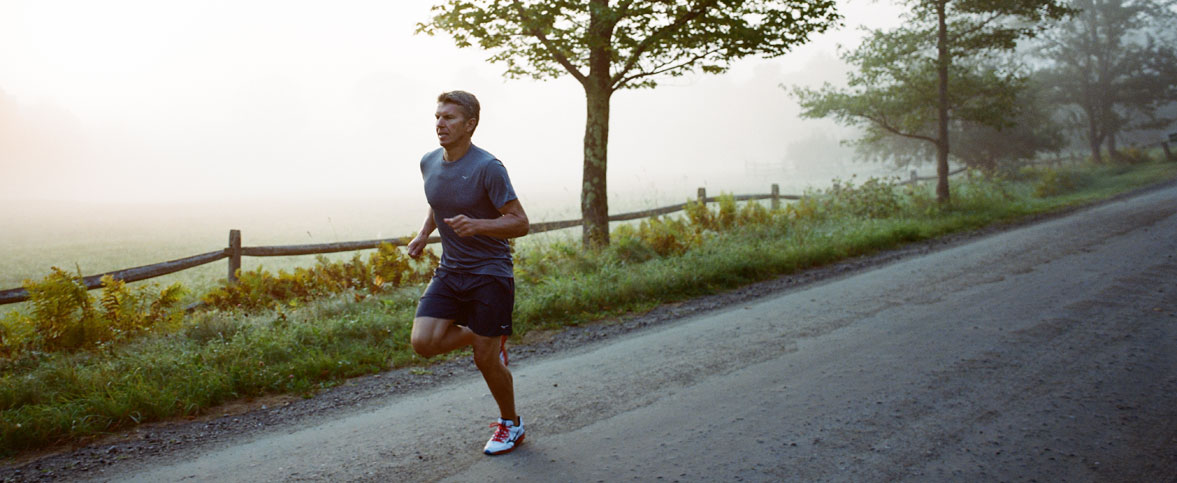 In every footwear company on the planet, the design process is a key element in the shoe-building cycle. That's a given. But Mizuno takes that process several steps further, by utilizing the expertise of the most experienced footwear designers in the world who lay the foundation of a great running shoe design.
The process is complex, but the goal is a simple one: To blend the science of modern shoe-building with the art of shoe design to produce state-of-the-art running shoes.
To achieve that lofty objective, every Mizuno shoe starts with an exhaustive, multi-national design process that interfuses the expertise of footwear designers at Mizuno world HQ in Osaka, Japan as well as designers in Europe and another small group based in Portland, Oregon. These design groups are tasked with bringing together function-driven design into running products that reflect the DNA of Mizuno.
"Our footwear designers are truly world-class," says Rod Foley, US Director of Product. "And, I mean that literally. Regardless of which country they are based, our designers live and breathe footwear. They have the passion for innovative design which is tempered with the R&D discipline and creative problem-solving they must have. Our designers are from different backgrounds and cultures, but their designs must reflect our Japanese heritage. That's essential to the process."
These essential elements come together at the Mizuno Sozo Design Studio. Situated in a funky southeast Portland neighborhood, surrounded by coffee shops, art galleries and bike stores, the three key designers who are based there–senior designer Greg Newman, associate designer Julie Lucas and long-time master designer Tuan Le–are charged with taking a shoe from its earliest conception and bringing that idea to fruition into a workable design. That process is a lengthy, work-intensive process which takes about two years.
The inception of a Mizuno running shoe begins with Tomoyuki Yonekawa. Tomo is the point person for Global Running Footwear in Osaka and acts as the quarterback between the non-Japanese footwear and design teams scattered around the world.
Tomo works closely Takeshi Takeshita, who heads footwear R&D, to formulate the newest innovations for running shoes. Together, they compile all the pertinent information for a new shoe (including new design elements and treatments) into a single global product brief. Once those ideas are framed and tested, Tomo passes those specific design thoughts to the Portland team which takes it from there.
"What sets Mizuno apart," says Fritz Taylor, General Manager of Running, "is the incredible science and engineering that's developed from the team in Japan. That's what makes all of our running shoes feel and perform as great as they do. Their work means every shoe we make is a significant advancement."
Adds footwear design veteran Tuan Le about the initial conceptual phase, "Tomo is very passionate about the Mizuno brand and demands the best looking, most functional footwear possible. Tomo gives us his theories and specifies exactly what he wants in a shoe. As designers, it is our job to turn his ideas into workable drawings."
The Sozo Design Office opened seven years ago and its involvement is integral to the Mizuno shoe-building process. Here, is where the initial ideas of the Osaka team come to life in a new shoe. Once Tomo transmits his shoe brief to the Portland design team, one of the three designers is tasked with sketching out Tomo's idea for the shoe the old fashioned way—with pencil and paper. Then, those gorgeously detailed drawings are plotted into a computer.
Says Newman, who manages the Portland team, "Japan realized that for our shoes to be truly global, we needed a strong modern Western influence from the European and American markets. What we try to do here is combine the Eastern passion for perfection and innovation with a cool design. Because we are so centrally located, we straddle both East and West and incorporate those influences."
The primary result of the two cultures is function-driven design. Design simply for the sake of a hot-looking shoe is not the Mizuno way. Form, fit and function are of paramount importance to ensure the final rendition is a true reflection of the Mizuno brand.
"I visit many running stores around the country and I'm always looking to see how our shoes stand out on the wall," says Taylor who has spent 30 years in the running industry. "Clearly, the primary reason Mizuno shoes stand out on the wall and are special is because they are absolutely purposeful in intent. That's always been our bottom line."
That purposefulness of Mizuno shoes is the primary consideration of the Global Footwear Team which is charged with the crucial decision of which shoes will be built and the eventual direction those shoes will take.
The Global Footwear Team, consisting of designers and R&D from Japan as well as the product line directors and managers from Europe, Japan and the United States (Rod Foley is the key American), meets collectively in a different locale (Osaka, Portland, Munich, London are common spots) approximately every two months. During those meetings, the Global Footwear Team will look at various drawings of a particular shoe before selecting the absolute best design which has just the right look and feel the Team is looking for that best reflects the shoe's purpose and intended usage.
"What the Global Team is always looking for is a well-balanced, great-looking shoe which will be the best performing shoe in its category," says Newman who has worked for Mizuno in England and the United States for 12 years. "The group bases a lot of its decision on gut instincts, but our group also has years of shoe-building experience to pick the design which will work best."
Clearly, one of the most debated aspects of any running shoe is its color. The design team makes use of color pallets and boards and also consults with a company which forecasts colors and patterns, but often the color choice simply comes down to intuition, style and taste.
"We look at all the colors and some just stand out as something that is very true to Mizuno," says Newman. "We spin each men and women's shoe in at least five color options and the product line managers and directors choose the ones they like the best."
Once the colors have been chosen and illustrations are finalized, the digital files are sent to the factory where prototypes are made. That triggers the year-long sampling process which goes through at least three stages as the shoe is tweaked and adjusted until a final sample is reached, confirmed and finally produced.
Salesmen samples are usually received about eight months before the shoe hits the streets. That allows time for Mizuno Territory Managers around the country to present the new shoe to retailers who then place future orders.
Once those orders are received back at US headquarters in Norcross, Georgia, Foley makes his projections how the new shoe will sell and then decides how many pairs of each shoe he wants to buy (i.e., bring into the U.S. market). From there, Foley places an order with the factory for how many shoes of each model he wants built for the American market.
Once the shoes are manufactured at one of several factories, they are shipped to the United States. From there, the new running shoes begin shipping to stores about two weeks before the scheduled delivery date.
For example, the new Mizuno running shoe you will be wearing this year, actually first took shape in 2009-2010. The shoes Mizuno designers are working on right now won't be on your feet until 2014.
Says Tuan Le who has been designing Mizuno running shoes for more than 20 years, "Our shoes are designed to reflect how we feel about running. Our shoes are lighter, more flexible and have the smoothest heel-to-toe transition. Even so, in the future, our shoes will be even closer to the ground and have an even more natural feel.
"Mizuno shoes have never been like the other running brands. Our shoes are designed to look and feel different. We will never be a me-too company, chasing a trend or technology. Innovation and functional designs are what drives us as designers and shoe-builders. That's the heart of Mizuno running."