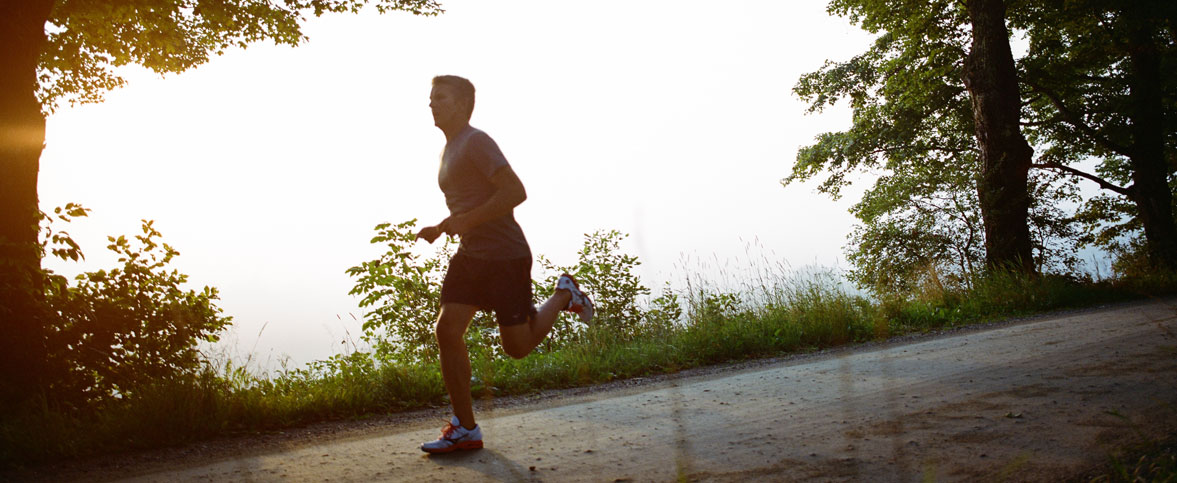 It's mid-December and the weather sucks.
You just ate a whole batch of holiday cookies.
It's too dark in the morning, oh… and also in the evening.
You had another cookie.
You HAVE GOT to find that last minute perfect gift!
Oh, did somebody make fudge?
My wife is under the mistletoe…
Two words: EGG NOG.
Running will be your 2013 New Year's resolution…
Excuses.
Why do we love excuses so much? I guess it's in our human nature to attempt to justify our behavior to ourselves and others…. but as runners, you and I both know better.
When people like us miss a run, it's much more than a few miles. It's more than a couple hundred burned calories and more than missing the fresh, crisp morning air. It's more than letting down your training partner or seeing that same cute 'lil dog you run past every afternoon. It's the sum of all parts… multiplied by infinity. A missed run affects every second of our being, until we get the chance to right that wrong and make amends with the running Gods the next day.
Last night was my company Holiday party, I'm certain you know how these can end up. 4 hours of an open bar, unlimited food and 18 crazy runners is a sight to see, and on my way home my brain started to make excuses on why I could sleep in and miss my planned 10 mile progression run this morning.
What I try to do, when those negative thoughts start to float is stare them down, accept them for what they are… then kick them right in the face! Just because I had a blast with my coworkers, enjoyed a couple pints of micro-brew (and then a couple more), and stayed out two hours past my bedtime… inherently has nothing to do with my run. Sure, it was a struggle to get up. The alarm went off far too early, the Sun was still hours from rising, and worse yet, I forgot to set the coffee maker… but after I had my Wave Elixir 8's laced up, and got out the door, I actually had an awesome workout. (Sidenote: the Elixir 8 has a 01.05.13 street-date, and I'm in love with it!).
So this holiday season, when it might be hard to get out of bed when the mileage is calling.
When bar hopping after shopping sounds better than hoppin' on that lonely treadmill for a tempo run, think about why you're making up excuses. Better yet, think about that goal 5k next spring, that 10k you want to crush in the summer or that BQ you're going after in the Fall… Are you willing to accept that you didn't do everything you could, to achieve your running goals?
We've got a saying around here, "Never Settle". So don't settle for skipping workouts, don't settle on waiting for the New Year, and never, ever settle on making excuses. If you need a bit of help, drop us at Mizuno a line…. we're here to make every run, A Brilliant Run!
So it's dark and cold? Oh, and it's snowing?!?
Then treat yourself to some new Mizuno Breath Thermo gear with high visibility reflective logos!
The weather is not exactly "runner friendly" right now up here in Maine… so I fight Old Man Winter back with my Breath Thermo Jacket. I rocked it this morning on my 10 miler, and honestly broke a nice sweat… in 20 degrees!
Stressing about Holiday gifts?
First off, chill out and relax. Imagine all those people freaking out, stressed at the mall… don't be that shopper. If you need specific advice, hit up your local running shop.
Step 1: How about a nice easy run to de-stress?
Step 2: Be grateful you're friends with another awesome runner!
Step 3: Have you scoped out the 2013 Mizuno shoe lineup?
The updates on the Wave Rider and Inspire are amazing! Got a speed demon in the family? The new Wave Ronin 5 or Wave Musha 5 will get 'em jinglin' all the wayto the finish… fast!
New Year, New you?
I know, I know… January first is right around the corner and you want to take the easy way out, and convince yourself "Oh.. I'll start running again as my resolution".
Why not get a jump on the game and start TODAY? You'll be 3 weeks more fit than everyone else for that first 5k next spring!
Think of the type of runner you want to be, do you think they would wait 3 weeks to start? No!
Need motivation? Make a deal with yourself, get 3 runs in this week.. and your reward will be new shorts or tights! The 2013 Mizuno line is full of bright colors to keep you stoked all year long!
Cookies, Egg Nog, Parties…
Ok, let's not be crazy… life isn't all about mileage and PR's. If there is ever a time to let the training slack a little, it's right now. Have a cookie or two, wash it down with your favorite holiday drink (make it a double, you deserve it!). Put the running on the back burner for the Holidays if you want, just don't ignore it. It's easy for even the most stubborn runners to pack on a couple pounds of fruit cake this time of year. Try to sneak out for an easy few miles before the rest of the family is up, or better yet… invite everyone to join you for a impromptu family 5k!
Of course… I won't blame you at all for scheduling that 20 mile long-run the day that the in-laws just happen to arrive.
Happy Holidays to all out there, and feel free to hit me up on twitter @SethMizuno or shoot me an e-mail on how you are getting through the season! Seth@Mizunousa.com